ABOUT ALEXANDRE GERTSMAN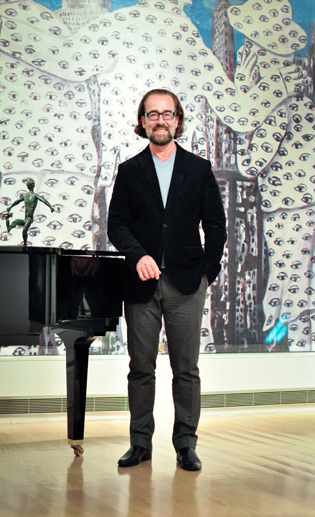 Alexandre Gertsman is Director of Alexandre Gertsman Contemporary Art gallery in Manhattan (NoHo.) Mr. Gertsman is unequivocally acknowledged as an accomplished art dealer, independent curator and savant of Russian contemporary art who has successfully orchestrated numerous traveling museum exhibitions throughout the United States, Europe, and Russia.
He represents well-known, established Russian-born artists and has pursued the development of new and young prodigies. He was also Founder and President of INTART — International Foundation of Russian and Eastern European Art since 1993, and was Founder and President of the American Friends of the Tretyakov Gallery foundation since 2002.
Educated in both the Ukraine and Moscow, his wealth of knowledge and understanding of the former Soviet Union and Eastern European experience (pre- and post-Perestroika) is aptly appropriated.
Editing and contributing to several exhibition catalogues and publications both nationally and internationally, he is a frequent correspondent of art magazines and periodicals. Mr. Gertsman often appears with art commentaries on American and Russian television and radio programs(Moscow, New York, Washington, D.C., St. Petersburg, Baltimore, and Detroit) and has been interviewed multiple times by the New York Times, New Yorker, New York magazine, Associated Press, Washington Post, Moscow Times, TASS, Artforum magazine, Flash Art International magazine, and Fine Art magazine.
Mr. Gertsman is often called upon as a consultant with major museums, corporations, auction houses, and private collections in the United States, Europe and Russia. Widely praised as a lecturer au courant, Alexandre Gertsman has moderated symposia and provided principal discourse on contemporary Russian art at various universities and museums across the United States.
Mr. Gertsman was a Corporate Partner of the Solomon R. Guggenheim Museum, and was also a Member of the Leadership Committee of the highly-acclaimed RUSSIA! exhibition at the Guggenheim Museum in 2006. Mr. Gertsman consulted the contemporary section of the RUSSIA! exhibit, and contributed several works from his private collection to the show, in addition to catalogues.
Alexandre Gertsman hosted the Tretyakov Ball annually in New York City with the 2005 Ball taking place at the prestigious Metropolitan Club, and 2006 Ball at Jazz at Lincoln Center, Time Warner.
Born in Dnipropetrovsk, Ukraine, in 1957, Alexandre Gertsman graduated from the Dnipropetrovsk Art School in 1971, Music School in 1972, and High School in 1975 with the Gold Medal for Full Excellence. He also received the Honorary Medal of the Youth Union of the USSR for Outstanding Achievements in Studying in 1975.
He graduated from the Architectural Academy with a diploma cum laude, winning the Silver Medal of the All-USSR competition with his Diploma Project in 1980, and went on to receive his post-graduate degree from the Moscow Central Institute of History and Theory of Architecture in 1982. Starting his architectural career in 1980, he was promoted to Chair of the Architectural Department and Chief Architect of Projects by 1990.
He immigrated to the United States in 1992 and is currently a U.S. citizen.